This Land (and River) Is Your Land….
Text and photos by David Lucas
Known primarily for its "Grand Strand" beaches, tourist attractions and smaller communities like Murrells Inlet and Pawleys Island, the Myrtle Beach Area tourism region also offers a wide range of outdoor adventures at inland spots like the SCDNR-managed Waccamaw River Heritage Preserve.
Both geographically and historically, the winding blackwater Waccamaw River connects the South Carolina counties of Horry and Georgetown (the two counties that make up the Myrtle Beach Area Tourism Region). Beginning at the border with North Carolina, the SCDNR's Waccamaw River Heritage Preserve and WMA protects more than 5,000 aces of primarily bottomland floodplain forest along the river in Horry County. The preserve is home to some rare plants, as well as serving as an important travel corridor for the region's population of black bears. Floating this stretch of the river in a canoe or kayak is a fantastic way to experience the heritage preserve, though there are also some access points that hikers, birders, wildlife photographers, anglers and (in season) hunters can reach by road. If you're planning any type of vacation or trip to this area, the tourism region website, www.VisitMyrtleBeach.com, should definitely be on your list of planning tools.
Located near the Waccanaw River Heritage Preserve's upper reaches, Wortham's Ferry Landing is a short (maybe 20 minutes, depending on the traffic) drive from the larger and more well-known Chris Anderson Boat Landing downstream, where Highway 9 crosses the Waccamaw. A lot of Waccamaw paddling and fishing adventures begin at Chris Anderson, where you'll find a modern ramp and dock with all the amenities, ample parking and even a conveniently located rental and outfitter's service right next door.
By contrast, Wortham's Ferry is about as basic as it gets – just a primitive throw in spot for kayaks or maybe a small john boat — and with little available in the way of parking, not the easiest spot to start your journey from. But there's something about this tiny spot where a country lane (County Road 111) basically just dead ends into the river that's guaranteed to bring out your inner Huck Finn. It's exactly the kind of place where you would expect barefoot youngsters in short pants to show up unsupervised to fish from the bank or maybe float out into the flooded shallows on homemade plywood boats or innertubes, if kids still did that sort of thing.
Immediately upon walking down the incline to the water's edge I startle a wild duck from its loafing spot under a dark canopy of cypress trees. It's quiet, and whitetail tracks dot the muddy bank underneath a profusion of wild muscadine vines, heavy with ripe purple grapes hanging tantalizingly out of reach, the spent hulls of the low-hanging fruit already stolen by the deer's likely nocturnal visits littering the ground. IPerhaps an erstwhile friend would agree to drop you off for the short paddle downstream to Chris Anderson Landing, which would make for a great afternoon or morning paddle of approximately six river miles.
For a longer paddle, Chris Anderson Landing to Red Bluff Landing on Highway 31— approximately 15-16 river miles — will take you through the heart of the preserve. Along the way you'll pass Starr Bluff and Big Savannah Bluff landings. Big Savannah is another throw- in spot located on a pretty (and pretty fishy-looking) ox-bow lake. Anglers have worked out some trails along the river for bank fishing here. The spot is reached by turning onto Loop Road off of Hwy. 905 north of Conway, and then following the signs down Waccamaw Lane to the Landing.
Another great resource for planning a trip down the Waccamaw is the Blue Trails map and guide published by American Rivers. This amazing booklet has an enormous amount of information packed between its covers, including mile-by-river-mile descriptions (and GPS coordinates) of the entire route from Lake Waccamaw in North Carolina to the Intercoastal Waterway and Winyah Bay. (The Waccamaw River is unique in that it is the only East Coast river that has as its headwaters a Carolina Bay.) There is an amazing amount of public-protected land along this historic river. In addition to the Waccamaw River Heritage Preserve, there's also the vast Waccamaw River National Wildlife Refuge below Conway, as well as the SCDNR's Samworth Wildlife Management Area, either one of which would make a full-length article on its own.
The city of Conway has capitalized on its proximity and historic connection to the river in recent decades by constructing a Riverwalk park along the bank, providing a popular spot for locals and visitors to explore or just hang out. If you still think of Conway as just a dot on the map between I-95 and Myrtle Beach, a visit to the Riverwalk and the lovely adjacent downtown historic district will surely change your mind. As I was standing on one of the Riverwalk's viewing platforms, trying to get the perfect shot of the river and some folks there enjoying an afternoon of fishing, a sunburned lady and her friend approached, having just tied up their boat at one of the day docks below.
"Daaang, you must be the paparazzi," she said, with a smile and an unmistable drawl that marked her as a for-certain local. It's true I guess, because in these parts, the Waccamaw is absolutely the star of the show.
Leg Stretcher— The L.W. Paul Living History Farm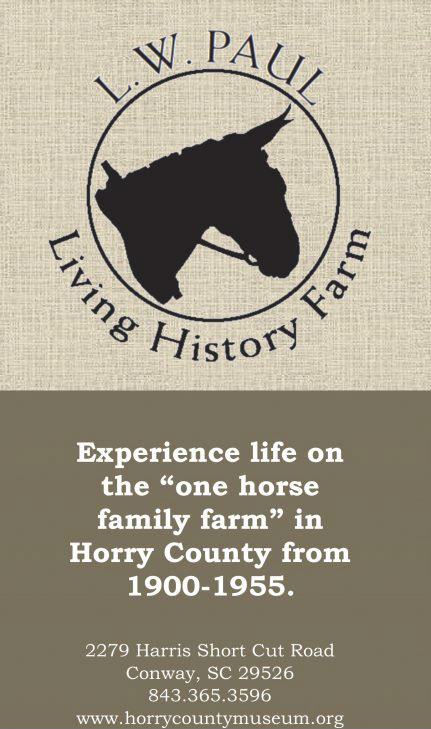 In addition to the Riverwalk and historic downtown, the city of Conway also boasts an absolutely amazing county museum, with exhibits focused on the area's history and natural resources. There's also the Living History annex, located just out of town at 2279 Harris Short Cut Road. Situated on 17 acres, the farm provides a true-to-life glimpse of life on the type of small working farm that was the lifeblood of rural Horry County from the turn of the twentieth Century through the 1950s. It's a great place to get outside and take a short walk, with plenty of opportunities to see some animals and some pretty countryside. Special programs and guided tours are available on Saturdays (don't miss the Traditional Cooking demonstration coming up on September 6), but the Farm is open for visitors to take its self-guided tour and spend some time in the outdoors during the week also, from Tuesday-Friday from 9 a.m. until 5 p.m.
Photo Gallery: Scenes from the Waccamaw River Heritage Preserve; August 2018.